This is the year workers embraced digital communications like never before.
Thanks to the shift to working from home precipitated by the Covid-19 pandemic, workers had to adjust to new digital ways of working and communicating.
According to research from Ofcom, video communications platforms have seen a surge in use. For example, in the UK Zoom grew from 498,000 users in December 2019 to 13.2 million in May 2020. In the same period, Microsoft Teams grew from 2.4 million users to 7.2 million users.
The Covid-19 pandemic has driven demand for information on the virus, on lockdown regulations, on treatment and on vaccines. On top of this, workers have been searching for resources on topics such as wellbeing.
The result? A constant stream of information that makes it far more challenging for workers to identify what information is useful to them. There's a lot of noise, so how can organisations – and HR/L&D in particular – provide the signal amongst the noise?
One answer is playlists. Probably more commonly known as a way to organise music, playlists are a great way to focus in on essential information, pulling together the most timely, relevant and useful resources on any given topic.
Definition of a playlist
Playlists are commonly associated with music, especially Spotify. A music playlist is a list of songs that can be played on a media player. YouTube playlists are a collection of videos that have been created by a user. For 5App, a playlist is a list of resources that have been put together on a certain topic based on employee need.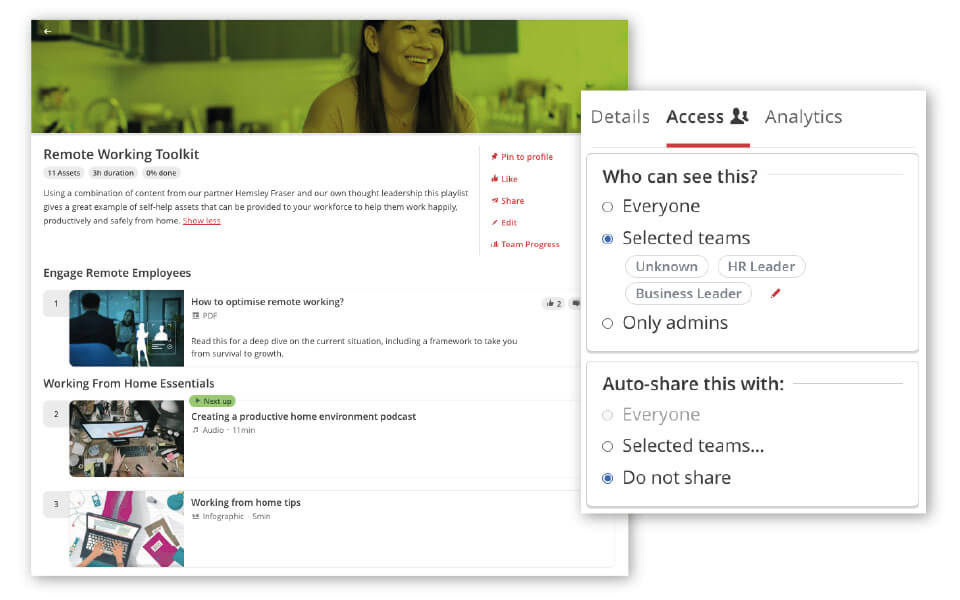 Example from the 5App Hub
The rise of playlists
Although playlists have existed in various forms for many years – the playlist of a radio DJ, for example – it was the emergence of audio streaming service Spotify in 2008 that popularised the concept of the playlist.
The playlist approach has proven to be hugely successful with Spotify now boasting 299 million users across 92 countries.
There are a range of other services too, including Apple Music, Amazon Music and Google Play Music, which account for hundreds of millions more listeners.
Humans like lists
Music streaming services aren't the only evidence that humans like playlists. In his article for The Guardian on facts about lists, Dean Burnett reveals 10 science-backed facts about why humans like lists. They include the fact that lists appeal to limited attention spans and that humans like grouping things. What's more, checklists help humans cope with complexity, as discussed in Atul Gawande's book The Checklist Manifesto: How to Get Things Right.
Playlists for learning
So as a format, playlists are popular and compatible with us humans. They are also an accessible and useful format for learning, enabling you to select and share useful, quality resources to support learning and performance. Whoever you choose to create the playlist – be it a colleague in L&D or HR, a subject expert or manager – they can select internal and external resources to create lists quickly that are also easy to consume. Playlists enable you to select the best, most relevant resources and package them in the most engaging way for individuals, teams and business units. They can be as long or as short as you require and feature any mix of media. They can also include quizzes and surveys.
Playlists can be used to compile a mix of microlearning resources and longer pieces as well as quizzes or checklists. They can be targeted at individuals, teams or entire business units. And they can be time-limited so that they are removed at the right time.
Analytics provide insight into the effectiveness of the playlist and a user's progress through it and each piece of content within it. That means you have insights to help continuously shape the content so that it is relevant and engaging.
Bringing curation to life
Playlists complement curation. Fosway research has shown that content curation was the most successful way of sharing digital resources for L&D during lockdown. Playlists are an effective vehicle for these resources as they enable you to create bite-sized lists of resources. The playlist itself enables L&D professionals to order resources so that there is a start, middle and end for the consumer. This enables you to present resources in ways that make sense to the employee.
Playlists are also easier to market as your messaging can reflect exactly what is in the playlist and what value there is for the employee in consuming it.
The effective presentation and promotion of curated resources is key to their accessibility and relevance. This is a real strength of playlists as long as you pitch the right resources to the right audience.
Seven reasons to use playlists in L&D
Here at 5App, we have found that lockdown has been a catalyst for our customers to use playlists in a number of ways to support their colleagues through this period of upheaval and change. Here are just some of the reasons to consider using playlists as a part of your learning offering:
Playlists present L&D teams with an opportunity to package resources for specific tasks and needs, such as wellbeing resources.
Playlists are familiar and work: think Spotify and iTunes.
Playlists can make the 'push' experience of learning feel so much more contemporary and the format of including just a handful of resources makes resources more accessible. Learners are time poor so any help in getting them to the right resources quickly will be immensely useful.
Playlists give L&D flexibility to mix up resources according to need.
Playlists are a mobile thing: they meet the users where they live mostly – on their phone.
Employees and L&D can control how they use playlists so that they can adapt and personalise the experience. Playlists are personal and personalisation is critically important to make learning relevant.
Analytics can help shape and develop optimum playlists.
Conclusion
Playlists are a familiar and popular content format that employees will tend to use outside of work. That means they are ripe for being used by L&D teams. Our work with more than 50 clients shows how successful playlists can be in supporting learning and performance. Playlists are an effective vehicle for curating resources that need to stand out from all other virtual communications, both internal and external. They provide the opportunity to focus in on the most useful and relevant resources on a particular topic, task or challenge.
Information abundance is here to stay. Playlists provide a way for L&D teams to target resources in ways that stand out, helping reach, and engage, colleagues with the best resources available.
Use a platform that supports your new ways of working and learning. The 5App Hub can help in supporting your L&D strategy, creating a learning culture and in aligning learning with the business needs and objectives.
Get in touch to find out more.