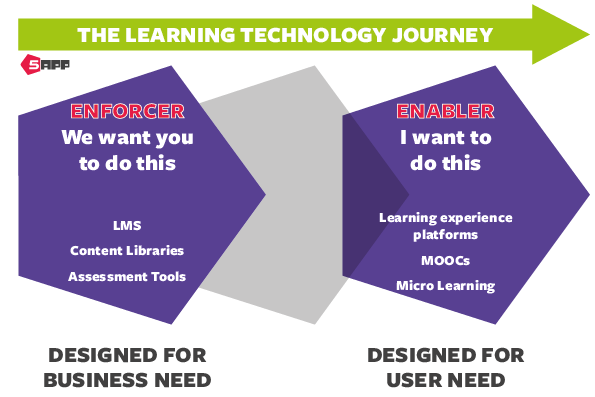 All organisations are on a journey to enable employees to do their jobs better and develop their skills and knowledge. Technology plays a critical part in this journey but for many organisations and employees it has failed to deliver. Here we look at the reasons why and provide some insights into how to use technology to enable employees to do their jobs better.
Here are some thoughts on learning and the new world of work, a world in which technology has changed, and is changing, the way we work and in particular how we do our jobs.
Within this changing world of work, there have been some big shifts in learning and how we develop ourselves. It used to be that we had to go on courses or attend face-to-face events to learn about new policies and procedures or to develop new skills.
And it used to be difficult to share information with colleagues. Rightly or wrongly, email became the default method of communications.
All this has changed. Or rather it is changing. Now we can use technology to find out what we need to do our job at the moment of need (ask a colleague, ask Google). We can access useful information wherever and whenever we need to do. And we can share information with colleagues easily.
Much of this change has been driven by consumer technology. Phones, tablets and laptops are smaller than ever and wearables are starting to become useful. And the software and services offered in our consumer world have shaped our online behaviours and expectations of what we can do online.
Consumer technology enables us to do things.
Google helps us find stuff out
Youtube helps us find, make and watch films
Spotify helps us find and listen to music
Amazon helps us shop
Headpsace helps us relax
Runkeeper helps us become better runners
Facebook helps us stay connected with friends
WhatsApp helps us send messages
Duolingo helps us learn languages
You get the idea.
Consumer technology has helped us 'do' things and get better at doing things.
The only problem is that workplace technology took a different direction. It was developed to help a different set of people do things. Learning technology was created to help organisations do things. It was designed for HR and L&D teams to put face to face content online and keep it in one place. It was designed to deliver content in courses and to record who had completed which course. It was designed for HR and L&D to manage information and to push it out to employees whenever it was deemed necessary to do so.
Using technology in this way was appealing because it dramatically reduced the cost of face-to-face training and could be used to scale the content and manage who was using it. Information and courses could be sent to thousands of people at once.
Whilst organisations have continued to design learning for what they want people to do most employees use their smart phone for their own purposes – to help them with work and non-work tasks.
The problem is that workplace technology is not helping employees do the things they need to do. It is being used to help organisations do what they want to do.
So, what needs to change?
For learning technology, the answer is to provide technology that helps employees to easily do what they need to do in their jobs and to help them develop themselves.
What might that be? You'd have to ask your colleagues what challenges they are trying to overcome in their roles. The challenges are based on the employee's work context – the type of organisation, industry, job role and so on. But they might include:
Being able to access relevant information quickly
Find colleagues or other experts quickly
Do some skills self-diagnosis to find out what they need to learn to develop
Find out what they need to know on day one when they start a new job
Prepare for their promotion to a new role as manager
Access courses to gain new skills and knowledge
To provide engaging and useful experiences you will need to look at what your employees need help with in their jobs. That means asking them and observing them. It means co-creating learning solutions with your employees. It means paying attention to usage data in order to understand what's working.
There's a huge opportunity here for organisations to accelerate the impact of digital. According to learning industry analysts, Fosway Group, only 50% of learning professionals say their current learning platforms are fit for the modern workforce1.
Clearly, there's lots of room for improvement here. Get learning technologies right and you will be rewarded. As data from analyst and benchmarking organisation, Towards Maturity, shows, organisations that have successfully implemented and embedded learning technologies have seen huge benefits across a range of areas, including: developing a learning culture, process efficiencies, performance improvement and becoming more agile2. These are the areas that enable organisations to succeed through change.
References
1 Digital Learning Realities Research 2019
2 The Transformation Curve – 2018 Benchmark Research, Towards Maturity