What a year 2020 has been. Unprecedented in so many ways, this year has been shaped by the Covid-19 pandemic and its impact on our work and home lives.
If ever there was a year to reflect on what has been, and what might be to come, then this is it.
At 5App, we wanted to take some time to reflect on what the impact of Covid-19 has been, both personally and professionally. We asked our colleagues and our networks for feedback on what people had learned in 2020 and what they would take forward into 2021.
Interestingly, the main learning points, which for many are what will be carried into 2021, are focused on the personal.
One respondent told us: "I realised time is really so valuable. Money really isn't everything as long as you have enough to live reasonably well. Urgency needs to only apply to a person's health and wellbeing rather than a spreadsheet and with an easier outlook, it becomes easier to consider and help others. If and when I go back to work, I will carry these lessons with me."
Wellbeing has taken centre stage for employers this year and this is reflected in the comments we have received.
How working life changed in 2020
The 5App Hub is currently being used by more than 50 brands around the world. It enables organisations to quickly create and share playlists of assets. Hub analytics enable our customers to see granular engagement data for individual assets and playlists. A look back at Hub usage data in aggregate reflects the type of year our clients have had.
In April 2020, we saw a 488% increase on last year in the opening of resources across all of our client hubs, a 471% increase in May and a 239% increase in June. There were smaller increases in July and August, but then the figures rose again to an increase of over 100% in both September and October.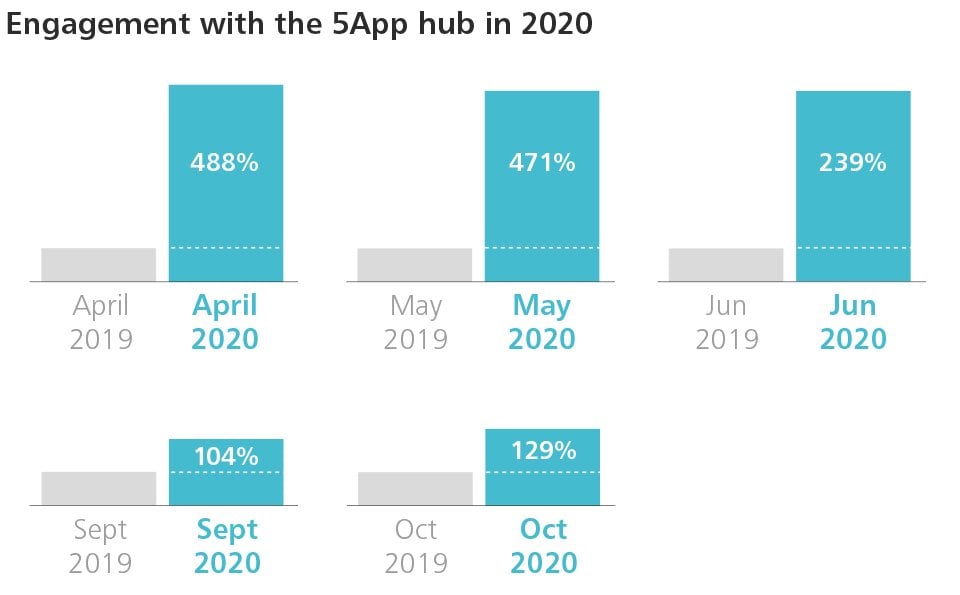 In the UK, the Covid-19 pandemic led to a three-month lockdown, starting in the last week of March. It required those workers who were not supporting essential services to work from home. For most employers and employees this meant a digital-first approach to work, hence the huge spike across our client hubs.
According to the Office for National Statistics, in April 2020, 46.6% of people in employment did some work at home. Of those who did some work from home, 86.0% did so as a result of the coronavirus pandemic.
The impact of Covid-19 on how we work
According to research from L&D and HR industry analysts, Fosway Group, learning priorities and L&D strategy changed for 94% of organisations as a result of the pandemic. For two in three organisations, this meant making significant changes to how they deliver learning. Moreover, 70% of learning and development professionals think corporate learning has changed forever.
As a result of the shift to working from home and concerns about catching the disease, employees became increasingly concerned about their mental health and wellbeing. According to research carried out by Karian and Box, 42% of employees reported feeling anxious and 30% feeling vulnerable.
Wellbeing content became a priority for employees.
Gordon Daroch, 5App's digital transformation lead, says. "On reflection, the most important thing I've learnt this year from a personal and professional perspective has been looking after my mental health and well being.
"Both were a major factor during the first lockdown after working from home for a few weeks. My office is also my sitting room and main living space so it could quickly feel like groundhog day was setting in. I wasn't particularly good at stepping away for breaks, lunch or even just getting outside for a walk during the working day.
"But it's important to communicate, to stay in touch with people professionally and personally, to ensure your colleagues, friends and family are ok. It's ok and normal to feel down and anxious, but talk to somebody or step outside for a walk to clear your mind rather than taking the strain and building up worry. This has been a crazy year but mental health and wellbeing are paramount."
For 5App's 1st lead developer, Andrew Dodson, working from home continues to be a work in progress.
"Learning to work from home has, and still is, a challenge. Not being able to physically walk away from the office means there's no clear shut-off, and I can battle on into the night to try to get something done. It's not all work though, and that playtime which cuts across my day is lovely, but the guilt does fuel the need to perhaps overcompensate at times."
As well as having to accelerate their digital offering, organisations found themselves curating resources in order to respond to the demand for wellbeing information. Anecdotally, we saw wellbeing as a big driver of hub activity, as clients curated resources into playlists to help employees.
The year has created a nation of remote workers, many of whom would like to stay working from home, at least for some of the working week. Research of nearly 1,000 employers, carried out by the Institute of Directors, shows 74% intend to continue with increased home-working post-coronavirus.
And this shift to working from home has accelerated the digital delivery of learning. L&D is now a digital-first function. This is a huge shift for many learning teams.
What we can leave behind
It remains unclear what employers will keep and what they will disregard when it comes to new ways of working prompted by lockdowns. We now know that digital is here to stay and for learning that means no more face-to-face learning as the default option. It means less emphasis on being in an office.
It also means listening to employees and their needs and responding to them in a timely way. There will be less emphasis on what the organisation says employees need to know and more emphasis on what employees say they need to do their jobs better and develop themselves.
Some analogue skills will fall by the wayside but they will need to be replaced by new digital skills. Reskilling and upskilling the workforce in digital skills will become a priority.
Lockdown gave employees more agency to get on with their work. To capitalize on this agency, managers will need to ditch old command and control ways of managing their teams. Trust is the new watchword. Enabling teams to get on with their work whilst working remotely is the new challenge. And at the heart of that is great communication.
What we can carry forward
The response from our colleagues and network overwhelmingly shows that 2021 will be more to do with being more human at work. That means looking after ourselves and each other, something that we have appreciated throughout this year.
For Sam Adams, lead developer at 5App, the year ahead is about connecting with colleagues and friends, "I will try and be more responsive to colleagues and will be more active in arranging to see friends/family (will try not to take it for granted)."
This sense of connection is shared by our head of product Duncan Barrett, "From a work perspective I would like to get to know the people I work with more! This year has highlighted to me how important it is to feel connected to the people you work with and feel like you are working towards the same goals.'"
And for head of marketing, Gill Frood, empathy will become increasingly important. "2020 was a huge lesson in a left-field event knocking us off course that no-one could have predicted. Stuff happens – so it's important to be open-minded to change and reinvention and kind and empathetic to other people."
Digital working and learning are here to stay. In the coming 12 months, organisations will finesse these new working practices and continuously develop and improve their digital-first learning strategies.
At 5App, we will continue to support our clients by helping them:
Develop responsive playlists of resources based on employee and organizational need
Support better team communication through the use of nudges
Understand what the data tells L&D and use insights to build learning engagement.
What have you learned in 2020 and what will you be taking forward into 2021?
Learning from 2020
Here are some of the responses we received from our network when we asked what they had learned in 2020 and what they would take into 2021.
"I will try to stay in touch with friends more, I will only take on projects that I think I will enjoy, and I will trust my kids to make their own judgments – they've proved that they do it pretty well in 2020."
"I have learnt to be kinder. Some folk have been really frightened this year. I found myself with my empathy compass needing a reset."
"I've learned that keeping fit and well is probably the single best thing you can do for yourself and others that you might have to look after."
"I learned that although I work alone…the solitary nature of 2020 has absolutely done my nut in."
"I'm stronger than I thought I was, watching my son go through chemo. It is and will be the hardest thing I've ever dealt with. It did help to really prioritise what's important though."
"I learnt that never giving up always pays off – I proved that when I ran a one week health retreat in September against all the odds. It was full to bursting."
Use a platform that supports your new ways of working and learning. The 5App Hub can help in supporting your L&D strategy, creating a learning culture, and in aligning learning with the business needs and objectives.
Get in touch to find out more.